This week, the final episode for 2014!
Last week, Glynn told us about the camera with a 1/2,000,000th of a second shutter speed. Pfft. That's lame! How does a ONE TRILLIONTH of a second grab ya?
I came across this gorgeous 365 day personal selfie project,
Peter Lik now holds 4 of the top 20 spots for Most Expensive Photograph Ever Sold, some are suggesting that this was a publicity stunt, and if it was, it sure worked! Seems everyone is talking about it on social media.
Adam brought our attention to the Relio light cubes. Not flashes, but battery-powered cubes of light for still or video work. The odd part? Available in colour temps of 3000K, 3500K and 4500K. No daylight white balance (5600K)? Say wha?
Why it's ok to hate your old photos,
Steve Peters pointed me toward this video of one photographer's story about why he left Nikon for Sony,
Rob Coates weighed in on the validity and authenticity of both 'minify' and 'functionality',
Carl showed us a video about how to move your Lightroom catalogues between drives without breaking relative links,
Glynn told us about the Descendants Project, in which Drew Gardner has found living descendants of famous people, and recreated their forefathers' portraits; costumes, lighting and all!
Bambi Cantrell talking about light,
Leica M9 corrosion; be thankful if this doesn't affect you, as it's a 3 month wait for repair, and the replacement is likely to suffer the same fate! Yikes!
Chinatown New York in the 1980's,
Awkward Family Christmas photos (1) (2) (3),
that ludicrous story about the lawyer who tried to extort a photographer for supposedly doing a crap job of the wedding photos, but ended up getting slapped hard for his efforts,
Steve McCurry talking about his approach to his photojournalistic assignments,
and of course, Dave Frog Clark's picture to commemorate Glynn's half-century!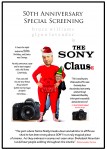 Comments will be closed after 30 days.
Love the podcast?
Want to share the love… and keep the servers running?
Feel free to make a small donation through PayPal.
All contributions gratefully received!
Podcast: Play in new window | Download (Duration: 46:20 — 28.4MB)