This week, we're live from the virtual coffee shop, as promised!
Glynn's happy with his new space,
plus he's a little bit impressed with these 3 images from a 'one-on-one' day he did with a client,

We've got the follow up on Sydney Photographer's Meetup #28,
this is the image I "cartoonified" from that shoot,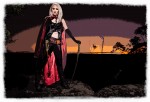 David Marland wrote to say:
1) that he liked Glynn's live critique of my dud dinghy shots from episode #,
2) Glynn's big umbrella has given him G.A.S., and
3) to remind us of Aurora Service, a website that gives you realtime updates on auroral activity.
Rob Coates and Adam Davidson both told us about DxO's One, a 20MP sensor that attaches to your iPhone.
We're introducing a new feature to Shutters Inc. We want YOUR images to critique. Details in the podcast.
For some weird reason, Adobe has decided to hide half the filter plugins in Photoshop CC.
If you find yourself scratching your head (as I was for a while!) looking for a plugin you just KNOW exists, but can't seem to locate, go preferences/plugins/, and check 'show all filter gallery groups and names'.
Randy got in touch to tell me about his startup, Snapizzi.
The idea is that you use small business card-sized cards, each with a unique QR code, to identify customers in event photography. This simplifies the ordering process for your customers.
Randy has set up a complimentary account for me, but to be honest, I just don't do that kind of work. If any of our listeners genuinely do this type of work and you'd like to try out the service and report back to us, give me a holler. Details in the podcast.
Glynn, in his usual larrikin fashion, completely took the mickey out of QR codes, and sent us off to this flowchart about when to use them.
Rob Coates wrote to tell us about Adrian Alford, the pro wedding photographer who shot his own wedding!
Like David Marland, Rob was equally impressed with Glynn's live critique on the last episode.
It's old news now, but there was Jason Sheldon's response to Taylor Swift,
followed up by Taylor's people responding to that.
There's the exhibition highlighting the altering of images in photojournalism,
Diana from Artsy got in touch about their page dedicated to the Vivian Maier archive,
Glynn came across a tiny RC helicopter with VGA camera attached,
he also found this story about native ISO vs extended ISO.
He also found a 7min short film shot entirely by moonlight,
VenusLens hasve brought out a 15mm macro/tilt shift lens which we're both rather excited by,
and Stephen McMennamy has managed to find himself a spot on our 'people we don't like list'! Awesome creativity, Stephen!
And one late item:
I found this after we'd recorded the podcast, but really liked the idea.
A filter system that fits between your camera body and lens. All filters are 55mm, and drop in and out like the lenses the optometrist uses to guage the strength of your eyes. Very slick idea.
Podcast: Play in new window | Download (Duration: 1:05:46 — 44.1MB)