This week, Glynn regales us with tales of his US jaunt.
Whilst there, he got to try out the new Tamron 85mm f1.8 lens which he reckons is the best lens in that size he's come across. But as you'd expect, he wasn't overly impressed with dpreview's gallery of sample images shot with the lens.
He's also pretty impressed with the GlowForge printer, which now holds the prestigious title of "Most Successful Crowdfunding Project of All Time" having raised 28 MILLION dollars in 30 days!
Apparently, there is a problem with Sigma lenses and Pentax's new flagship DSLR, the K1, where the lenses are scratching the internals of the camera body.
Out of Taiwan comes the sad story of a female scuba-diver (who also happened to be asthmatic) who drowned whilst modelling for an underwater shoot recently.
The makers of PortraitPro have announced their new product, LandscapePro, which you can pick up right now for 50% off the regular price.
I came across this quote during the week, and thought it worthy of sharing:
"Whatever you now find weird, ugly, uncomfortable and nasty about a new medium will surely become its signature. CD distortion, the jitteriness of digital video, the crap sound of 8-bit – all of these will be cherished and emulated as soon as they can be avoided. It's the sound of failure: so much modern art is the sound of things going out of control, of a medium pushing to its limits and breaking apart. The distorted guitar sound is the sound of something too loud for the medium supposed to carry it. The blues singer with the cracked voice is the sound of an emotional cry too powerful for the throat that releases it. The excitement of grainy film, of bleached-out black and white, is the excitement of witnessing events too momentous for the medium assigned to record them."

Brian Eno, A Year With Swollen Appendices
Steve Peters shared a few stories, including the awful truth about photography workshops,
the automated selfie-stick,
and an interview with David Zimmerman, the CEO of data recovery firm, LC Technology.
Carl shared the story of the practice of stripping a ton of metadata from your RAW files when you generate a jpeg.
Glynn was reminded of the church that burnt down near to where he was staying in New York.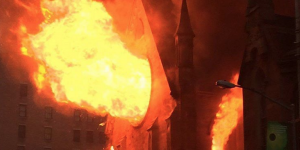 Adam brought us the story of the photography group from Canada who made a nuisance of themselves at Yellowstone National Park.
Glynn gave us a link to a David DuChemin blog post about this very group and their actions.
And finally, Adam shared this collection of print advertisements for all things photographic, spanning the last 130 years.
Comments will be closed after 30 days.
Love the podcast?
Want to share the love… and keep the servers running?
Feel free to make a small donation through PayPal.
All contributions gratefully received!
Podcast: Play in new window | Download (Duration: 46:21 — 30.9MB)