This week, we give you 50% more!
Phillip Andrews (professional photographer, Better Photoshop Techniques magazine publisher, and Adobe Ambassador) joins us for a chat about:
the differences between Photoshop CS5 and Lightroom 3,
his new Photoshop CS5 Essential Skills book, which SI listeners can buy at a 20% discount using the code 'pa123',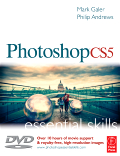 the Visible Light seminars touring Australia over the coming months,


and the new Photoshop CS5 custom panel which SI listeners can download for free using the code 'freepanel'.
Then, Phillip and Shelton go into a discussion about getting it right in camera,
and we round out the episode with a brief mention of Bruce's recent good news (more detail next episode).
Love the podcast?
Want to share the love?
Feel free to make a small donation through PayPal.
All contributions gratefully received!
Size: 108158812 bytes
Duration: 1:13:58
Podcast: Play in new window | Download (Duration: 1:13:58 — 103.1MB)